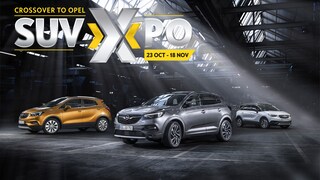 EXPERIENCE THE NEW GRANDLAND X AT OPEL'S SUV X-PO

Experience Opel's range of standout SUVs including the MOKKA X, Crossland X, as well as an exclusive preview of the brand new Grandland X at your Opel dealership. Discover Opel's class-leading connectivity like:
Personal Assistant with Wi-Fi.
Apple CarPlay™ & Android Auto™ smartphone projection and voice command.
Visit the SUV XPO Roadshow at an Opel dealership near you.