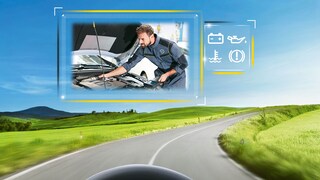 What's Covered in the Safety Check and Top up.
Lights/Electrics
Mandatory lights (external)
Horn / wipers / washer
External / Internal
Brake noise / feel
Clutch / transmission operation
Engine noise / smoke
Glass / mirrors / wiper blades
Seat Belts – security & operation
Air Conditioning Check**
Under the bonnet
Fluid levels – oil / water / coolant / screen wash
Fluid leaks – oil / water
Battery condition / drive belts
Brakes / Hubs
Brake fluid condition / temperature
Master cylinder / servo
Linings – pads / disc visual inspection
Hoses / pipes / cables / wheel bearings
Underside
Exhaust system / catalyst
Steering / suspension
Drive shafts / gaitors
Oil leaks
Wheels / Tyres
All 4 tyres inspection
Spare tyre inspection
Tyre pressure (check & adjust)
Fluid Top up*
Coolant (check & adjust)
Brake fluid (check & adjust)
Screen wash (check & adjust)
Engine oil (check & adjust)
BOOK NOW
*Top up quantity limited to a maximum of ½ litre. If required, additional quantities will be advised and with the customer consent charged accordingly
**Applicable vehicles only
T&C's apply. At participating Opel Dealerships.