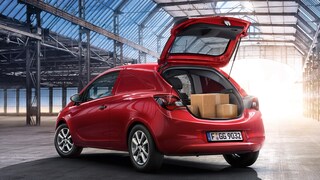 A practical small van that gets you right down to business. In style.
A practical small van that gets you right down to business. In style.
It all adds up to the right choice for you and your staff: practical, economical and stylish.
Low leasing rates, practicality and the latest advanced technologies make this the volume choice for business.
LOADSPACE

LOAD EASY. CARRY A LOT.

Easy to load. Offering a load space of 0.92cu.m and a payload up to 543kg Corsavan takes everything in its stride.

LOAD PROTECTION

SECURE CARGO.

Loads are kept secure with DIN-compliant lashing eyes and a half-height steel bulkhead. A rubber floor mat and full-height steel mesh are available as options for extra protection.

EXTENDED CAPACITY

EXTENDED CAPACITY.

With the detachable tow bar1 Corsavan tows up to 1250 kg. Choose from a range of Opel roof carrier systems for longer loads like ladders and pipes.

 

1 = Optional.
INTERIOR

COCKPIT DESIGN.

A stylish, spacious cockpit puts Opel Corsavan way out ahead. Deep contoured seats, clear instruments, intuitive displays and easy control make for an excellent workspace.

CLIMATE

THE PERFECT CLIMATE.

Stay cool. Choose between manual air conditioning1 or self-regulating Electronic Climate Control1 for constant temperature comfort.

 

1 = Option.

INSTRUMENTS

STYLISH CLARITY.

Enjoy the style and appreciate the clarity. Clear, accurate and easy to read instruments help reduce fatigue through day and night.

TRIMS

FABRIC TRIM.

Hard wearing, bright, stylish and comfortable featuring high-quality materials and fabrics.
HEATED FEATURES

HEATED WINDSCREEN AND OTHERS.

Indulge in the luxury of heated seats1 and heated steering wheel1. Forget ice or condensation, the Therma Tec heated windscreen1 gently warms it away.

 

1 = Optional.

CITY MODE

MADE FOR THE CITY.

Take it easy. Speed-dependent electric power steering reduces effort, adds precision and saves fuel. Use the City Mode button to boost assistance for easier parking and manoeuvrability.

ESP® PLUS


KEEPING IT UNDER CONTROL.

Stay firmly in control on slippery roads with ESP®Plus. Hill Start Assist stops you from rolling backwards when you lift off the foot brake, taking the stress out of gradients.
ONSTAR

ONSTAR: YOUR CONNECTIVITY AND SERVICE ASSISTANT

OnStar1 is a premium service that makes you feel safe, connected, and cared for, virtually everywhere in Europe, 24/7 and 365 days a year.

 

SAFE: Better safe than sorry! In case of an accident or if you, your passengers or even a passer-by are not feeling well, our specially trained advisors are there for you, anytime, anywhere. If needed, they can send the emergency services to your location.1 CONNECTED: Opel is making sure you are fully connected:  With a fast in-car Wi-Fi Hotspot for 7 devices.2 Your smartphone also becomes the ultimate remote for your car.3 CARED FOR: Who wouldn't want a personal assistant? Our advisors are at your service 24/7/3651, for example to book a hotel4 if you are too tired to drive.

 

1 = Opel is not responsible for the provision of OnStar services or Wi-Fi services. OnStar Services require activation and an account with OnStar Europe Ltd a GM Company. Wi-Fi services require an additional account with OnStar Europe Ltd's mobile network operator supplier. All services subject to mobile network coverage and availability.  Charges apply after the initial trial period. All services are subject to mobile network coverage and availability. Use of OnStar services (except Wi-Fi) is free of charge for 12 months from registration date or delivery of vehicle, whichever comes first. Wi-Fi trial has a time limit and capped data allowance. Charges apply after expiry of applicable trial periods. Check here for service limitations and charges. 2 = Wi-Fi Hotspot Services require an account with OnStar Europe Ltd and the nominated network operator. Wi-Fi trial has a time limit and capped data allowance. Charges apply thereafter. All services are subject to mobile network coverage and availability. 3 = Some elements of Smartphone App, Vehicle Diagnostics, and Destination Download may not be available for all cars/trim levels. Check here for service limitations and charges. 4 = Via booking.com. E-mail address and credit card required. More information is available here.

INFOTAINMENT

CLASS-LEADING CONNECTIVITY.

Connect easily with the all-in-one multimedia system R4.0 Intellilink1 which is compatible with Android Auto™2 by Google or Apple CarPlay™2.

 

The R 4.0 IntelliLink includes the following features:

 

7-inch colour touchscreen
Compatible with Apple CarPlay™2 and Android Auto™2
Bluetooth and USB
Audio streaming
Hands-free calling
Digital/AM/FM radio
Photo and video playback via USB

 

1 = Optional.

2 = Apple CarPlay and Apple are trademarks of Apple Inc., registered in the U.S. and other countries. Android is a trademark of Google Inc.

TOMTOM

FIND YOUR WAY.

The TOMTOM GO 40 navigation system fits perfectly in the Opel designed FlexDock cradle, where it can recharge. It comes with Lifetime TomTom Traffic to get you to your destination faster adding even more safety, a 4.3-inch screen, 3D Maps and a map of Europe (45 countries).

RADIO

EASY LISTENING.

The CD 3.0 BT system features a CD Player, Digital/AM/FM radio, Bluetooth® audio streaming and a hands-free phone portal, together with aux-in and USB connections.
ENGINE RANGE

THE POWER OF EFFICIENCY.

Petrol or diesel the choice is yours – a 1.3CDTi (75PS) Euro 6 diesel engine with Start/Stop or a 70PS petrol engine. Both units redefine small van performance, economy and smoothness.

 

Fuel consumption in l/100 km: urban 6.7-5.1, extra-urban 4.6-3.4, combined 5.4-4.0; CO2 emission in g/km: combined 126–107 g/km.

 

According to regulation R (EC) No. 715/2007 (applicable version).

SERVICE INTERVALS

LOW RUNNING COSTS BUILT-IN.
ACCESSORIES.
Tailor Made for You.
With original Opel accessories express yourself and make the most out of your vehicle. Designed and tested for your Opel.
Please note: Acessories supplied may vary from the images shown here.