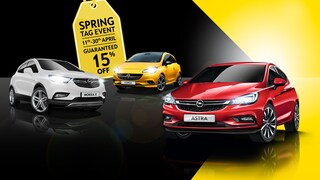 GET A GUARANTEED 15% OFF A BRAND NEW OPEL CORSA, ASTRA OR MOKKA X.
Now that Spring is in full swing, Opel are celebrating with a Spring Tag Event! Claim a guaranteed 15% off a brand new Opel Corsa, Astra or Mokka X.
That's a guaranteed 15%.
Limited stock of new Corsa, Astra & Mokka X available at your local Opel dealership. Request a Quote below.
To find out more, please visit your local Opel dealership. Offer available for a limited time only!
Opel. The Future is Everyone's.
Terms & Conditions