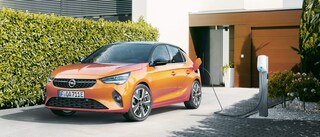 CHARGING SOLUTIONS FOR EVERY NEED.
All Opel vehicles already include a basic mobile charger (mode 3) that allows you to charge at any household socket, however, charging speed is limited by the capacity of these sockets.
Charging to go: Opel's mobile chargers.
Our Universal Charger, the "Suisse army knife" under the chargers, allows you to charge at household sockets, public chargers and high voltage sockets to always provide the maximum charging speed possible.Learn more from your local Opel dealer.
Maximum convenience at home: Our wall boxes:
You want maximum performance and convenience at home? We offer a portfolio of wall boxes contact your local dealer for more information.