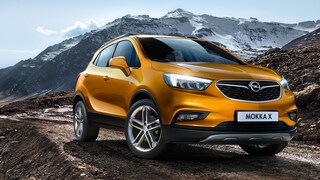 Xtra tax breaks, Xtra connectivity and Xtra SUV-feeling. Mokka X Van is a bold, premium SUV for your business.
For work, for weekends, Mokka X Van with just a 5% Benefit-in-Kind for a bold, premium SUV.
Xtra Capital Allowances, reclaim VAT up front plus allowable expenses. Mokka X Van is a bold, premium SUV made for your business.
Xtra Capital Allowances, reclaim VAT up front plus allowable expenses. Mokka X Van is a bold, premium SUV made for your business.
EXTERIOR

PREMIUM VAN BY DESIGN.


Mokka X Van brings street-smart SUV styling to your business. Add Business Users tax breaks and it makes even more sense - just see below:

 

Mokka X Van Business Users benefits:

Qualifies for Capital Allowances
5% Benefit-in-Kind if company vehicle
VAT reclaimable up front
Running costs and fuel Allowable Expenses

SUNROOF

LET THE OUTDOORS IN.


Mokka X Van even lets you bring the outdoors in. The large optional glass sunroof adds to the great sense of space inside.

LOADING SPACE

LOADS MORE FOR LESS.


With a flat, load floor replacing the rear seats, Mokka X Van offers a 1.3m-long load floor length.

 

Loadspace:

Low loading height
Impressive 434kg payload capability
1300mm load floor length
Generous 1.4 cu.m load capacity
LED ADAPTIVE FORWARD LIGHTING

ADAPTIVE LED LIGHTING.


LED Adaptive Forward Lights are 30% brighter than halogen and they automatically adapt to different driving situations for enhanced visibility and safety.

 

Back-up/Manoeuvering: Activates front cornering lights for easier parking.
Static cornering: For close-range illumination at junctions.
Dynamic cornering: Long range lights that illuminate into bends.
High Beam Assist: Automatically dips your headlights when it detects other vehicles.
Country: A longer, broader, dazzle-free low beam (above 55 km/h).
Town: A wider spread helps highlight pedestrians (below 55 km/h).
Tourist Mode: Adapts lights to driving on the other side of the road.

REAR VIEW CAMERA

SEE WHAT'S BEHIND YOU.


The optional Rear View Camera  helps you reverse safely without straining to look over your shoulder. 
ONSTAR

YOUR PERSONAL CONNECTIVITY AND SERVICE ASSISTANT.


OnStar1 is a premium service that makes you feel safe, connected, and cared for, virtually everywhere in Europe, 24/7 and 365 days a year.

 

SAFE: Better safe than sorry! In case of a crash or if you, your passengers or even a passer-by are not feeling well, our specially trained advisors are there for you, anytime, anywhere. If needed, they send emergency services to your location.1

CONNECTED: Opel is making sure you are fully connected:  With a fast in-car Wi-Fi Hotspot for 7 devices.2 Your smartphone also becomes the ultimate remote for your car.3

CARED FOR: Who wouldn't want a personal assistant? Our advisors are at your service 24/7/3651, e.g. to book a hotel4 if you are too tired to drive.

 

1 = Opel is not responsible for the provision of OnStar services or Wi-Fi services. OnStar Services require activation and account with OnStar Europe Ltd, a GM Company. All OnStar services and Wi-Fi services will cease to be available on December 31st, 2020.  No trial or paid subscriptions or services, including emergency response services, will be available after that date. Wi-Fi services require additional account with OnStar Europe Limited's mobile network operator supplier. All services subject to mobile network coverage and availability. Use of OnStar services (except Wi-Fi) is free of charge for 12 months from registration date or delivery of vehicle, whichever comes first. Wi-Fi trial has a time limit and capped data allowance.  Charges apply after expiry of applicable trial periods. Check www.opel.ie/onstar for service limitations and charges.

2 = Wi-Fi Hotspot Services require account with OnStar Europe Limited and nominated network operator. Wi-Fi trial has time limit and capped data allowance. Charges apply thereafter. All services  subject to mobile network coverage and availability.

3 = Some elements of Smartphone App, Vehicle Diagnostics, and Destination Download may not be available for all cars/trim levels. An embedded Opel navigation unit and map data are requirements for the Destination Download service. Check www.opel.ie/onstar for service limitations and charges.

4 = Via booking.com. E-mail address and credit card required. More information here www.ople.ie/onstar

INTELLILINK R4.0

INTELLILINK. NETWORKING THAT WORKS.


The top-notch R4.0 IntelliLink - standard on SC models, is fully compatible with Apple CarPlay™1 and Android Auto™2 by Google, giving you access to smartphone features. 

 

Apple CarPlayTM and Android AutoTM by Google enable users to conveniently access from their smartphone useful, compatible apps and functions while driving, such as:

 

Use the phone as a sat-nav via maps
Stream music with Spotify
Listen to web-radios with TuneIn or podcasts
Send and receive messages via WhatsApp and Skype

 

These features can easily be accessed through voice control such as Apple Siri, to keep your hands on the wheel and the eyes on the road.

 

1 = Apple CarPlay and Apple are trademarks of Apple Inc., registered in the U.S. and other countries.

2 = Android is a trademark of Google Inc.

INTELLILINK NAVI 900

TOP OF THE RANGE SAT NAV.


The Navi 900 IntelliLink system1 is compatible with Apple CarPlay™ and Android Auto™  to give you access to certain functions of your smartphone on an 8-inch touchscreen.

 

The Navi 900 IntelliLink® offers:

 

DAB/FM/AM radio 
8-inch colour touchscreen 
Satellite navigation (embedded for use with OnStar)
Smartphone connectivity for your phone, messaging, music, maps and apps
Apple CarPlay™2 and Google Android Auto™2 app projection 
Siri / Google Now voice command for phone, messaging, music, maps and calendar
Steering wheel controls for phone, music and cruise control 
Bluetooth® phone, messaging and music streaming 
USB and Aux-in connection

 

1 = Standard on Elite. Optional on SC.

2 = Apple CarPlay and Apple are trademarks of Apple Inc., registered in the U.S. and other countries. Android is a trademark of Google Inc.
4X4 AWD

4x4 = MORE FUN PER WHEEL.


Mokka X Van always gets a grip. In challenging conditions, 4x4 intelligent All Wheel Drive technology gives you added traction, stability and control.

 

AWD sensors monitor key factors such as wheel speed
If necessary, AWD switches from front-wheel drive to 4x4
The driving force is distributed to both front and rear axles
Ideal on black ice in town, muddy ground, off-road or snow

HILL START / HILL DESCENT


HILLS WITHOUT THRILLS.


Whether you drive on steep hills, steep city streets or just manage a car park descent, with Hill Start Assist and Hill Descent Control there's no risk of rolling back.

 

1. Hill Start Assist (HSA). When you start or park on steep hills, HSA automatically hold the brakes for a moment. There's no risk of rolling the wrong way. 

2. Hill Descent Control (HDC). HDC controls downhill speed so you don't need to worry about braking, even on steep slopes or car park descents. 

ENGINES

EFFICIENCY WHERE IT COUNTS.


Power feels great when it's combined with control, which is why we engineered intelligent 4x4 All Wheel Drive technology and new, fuel-efficient engines for Mokka X Van.

 

Ideal for long-distance drivers, the 1.6CDTi (136PS) diesel combines superb economy with performance. It's also a benchmark in low-noise diesel technology.
Front Wheel Drive (FWD) models are available with either a six-speed manual or automatic transmission 
All Wheel Drive (4x4) models come with a six-speed manual 

 

Fuel consumption in l/100km: urban 5.2-4.6, extra-urban 4.4-3.8, combined 4.7-4.1: CO2 emissions in g/km: combined 124-106.

 

In accordance with regulations R (EC) No. 715/2007 and R (EC) No. 692/2008 (applicable version).

PREMIUM ERGONOMIC SEATS

THE HEIGHT OF COMFORT.


Ergonomically certified satisfaction: Ride high and relax in a deluxe seat with extendable thigh support and a lumbar area you can adjust electrically for the perfect fit.

 

Certified by the AGR (Campaign for Healthier Backs) - a centre of excellence for ergonomics - both front seats offer multiple adjustment options, including height, tilt, four-way lumbar adjustment and variable thigh support. This allows the seat to be perfectly adjusted to your optimum seating position.

 

In addition, the Mokka's high seating position gives the driver a commanding view of the road and lets passenger get in and out of the car comfortably.

HEATED FEATURES

A WARM WELCOME.


Three-stage heated front seats  and heated leather steering wheel  are a welcome comfort in winter.
ACCESSORIES.
Tailor Made for You.
Original Opel accessories allow you to express yourself and make the most out of your Mokka X Van. Designed and tested for your Opel.

Please note: Actual accessories may vary from those shown.