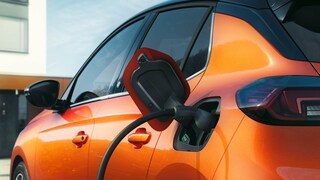 SIMPLY ELECTRIC.
E-mobility made easy: we've made the electric car experience feel as easy as using a smartphone.  And Opel Services for Electric Vehicles* are the perfect complement helping to get you started and keep you going. * All Services are expected to be available latest in Spring 2020.
OPEL SERVICES FOR ELECTRIC VEHICLES.
Whether you're charging your electric car at home or out and about, Opel's versatile charging strategy helps you to stay flexible. And that means for those shorter everyday distances or longer trips.
Opel's mobility services ensure you stay mobile – by helping you plan your route in advance, providing assistance while you're on the go.
Get the most from your electric car whether your actually driving it or not. e-Mobility coaching gives you helpful driving tips that can increase your car's range while remote functions allow you control everything from battery charging to the interior temperature via your smartphone. How cool is that?
Opel FlexCare is a convenient all-in-one program for your peace of mind. We offer packages that include Roadside Assistance, Extended Warranty and Vehicle Servicing, all tailored to your individual needs and the specifics of your electric car
Opel call centre and roadside assistance services are there to provide electric vehicle owners with the same peace of mind Opel owners have come to expect. Wherever you travel in Europe in your electric vehicle, rest assured we'll always be there for you should you need assistance.