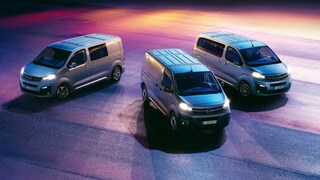 So practical, intelligent and elegant that you'll find it hard to get off.
As comfortable and practical for the city as for the countryside.
Low costs, useful gadgets and flexibility as you have never experienced. 
Productivity taken to the edge. Flexible seats, connectivity and great looks for your business.
THE VAN WHICH DOES MORE FOR YOUR BUSINESS.

With a highly flexible loadspace, mobile office functionality and German-standard safety features, the Vivaro has been engineered specifically to drive your business forward.

 

Striking Opel design and German engineering precision
State-of-the-art technology and innovation rarely found in a light commercial vehicle
A range of efficient engines and transmissions
Available in 3 bodystyles and 2 body lengths – L1 and L2 1
Adjustable office table2 & smartphone/tablet holders
Maximum load volume of up to 6.6m3  (3) and payload up to 1400kg4
Advanced safety and driver assistance features

 

1Wheelbase options vary according to which bodystyle is chosen. Body length availability dependent on bodystyle. 2Part of the optional FlexCargo® 2-seater passenger bench. 3On L2 models models fited with FlexCargo® 4Dependent on model

 
FIND THE PERFECT FIT.


Available in two different sizes, each Vivaro variant offers the perfect balance between relatively compact exterior dimensions and a spacious, highly flexible interior.

 

The L1 Panel Van, is 4.95m in length and  can load 2 Euro pallets, while the L2  variants can capably take 3.

 

IMPRESSIVE FUNCTIONALITY.


Available in three bodystyles, the Vivaro is capable of providing a vast variety of different functions according to the individual demands of your business.

 

The Panel Van1 suits those who need to move cargo regularly, with up to three seats up front, while the Doublecab1 offers space for up to 6 with a passenger bench in the rear. The Vivaro Combi1 offers up to 9 seats for your sports club, work colleagues or small team.

 

1Available in 2 lengths: L1 and L2.

 

EXACTLY THE RIGHT SIZE.


Electric sliding side-access doors provide easy access to the cargo or passenger space when you're in a tight spot.
CLEVER PACKAGING.


The innovative FlexCargo® multi-function front passenger bench expands the Vivaro's flexibility, creating a highly competitive load volume of up to 6.6m3 (1) and maximum load length of up to 4m1.

 

Take advantage of a maximum loadthrough length of 2.86m in the L2 Vivaro, or use the FlexCargo®2 load-through facility for objects up to 4m in length.

 

1On L2 models models fited with FlexCargo® 2Optional.

 

MAXIMISE PRODUCTIVITY.


Cut down on journeys by carrying more each time, thanks to the Vivaro's generous maximum payload of 1400kg1.

 

1Dependent on model

GO HANDS-FREE.


With dual electric sliding side-access doors1 and sensor-operated hands-free access1, opening your Vivaro with full hands and accessing its vast load space has never been easier.

 

1Optional.
FROM A TO B, STRESS-FREE.


Find the quickest route to your destination with the Vivaro's 7-inch touchscreen1 and Multimedia Navi1.  Access all your music and content on your smartphone easily with Android Auto™ 1,2 or Apple CarPlay™ 1,2.

 

1Optional. 2Compatibility and certain functionalities may differ depending on the type of device and version of operating system. Apple CarPlay™ is a trademark of Apple Inc., registered in the U.S. and other countries. Android Auto is a trademark of Google Inc.

 

ALWAYS THERE FOR YOU.


In the case of an emergency, eCall with automatic emergency response will connect you to the 112 operator who will then communicate with the emergency services and ensure the correct response teams are advised to attend.

1

 

1eCall will be available as an option on selected carlines from May 2019. Further Opel Connect services will be added from October 2019. Some of these  services may require a subscription/fee and will be subject to mobile network coverage and availability.
YOUR OFFICE ON THE GO.


With the FlexCargo® multi-function front passenger bench seat1, you can transform your Vivaro into an office on wheels, with an adjustable fold-down table for driver or passenger.

 

Take advantage of the handy smartphone/tablet holders2 to keep your devices safely secured while on the move. Enjoy additional storage volume underneath the front passenger bench seat1, so you can stow work equipment and other valuable objects up to a volume of 60 litres.

 

1 Optional as part of FlexCargo®.

2 Optional

 

COOL STORAGE.


With open storage boxes in the facia, deep door pockets that can hold 1.5l bottles and a glovebox with cooling function, the Vivaro has a space for everything.

TOTAL FOCUS.


With various materials throughout the cabin providing additional soundproofing, you can keep outside noise at bay, making for a more relaxed driving experience.
ENGINEERED TO HELP YOU OUT.


Staying alert isn't always easy. Driver Drowsiness Alert 1 analyses your driving patterns via the front camera and steering wheel to let you know when it's time for a quick break.

 

Lane Departure Warning1 recognises when the Vivaro is drifting out of lane and alerts the driver via audio and visual cue. The advanced Smart Beam2 system switches your headlamps between high beam and dipped beam automatically to avoid blinding other drivers. Speed Limit Adaptation1 uses Speed Sign Recognition1 to analyse changes in the speed limit. With one push of the memory button, allow cruise control to adjust your speed accordingly.

 

1 Optional as part of the Driver Assistance Pack 2 Standard on Sportive, optional on Edition models

 

YOU'RE IN SAFE HANDS.


With one touch of the memory button, Automatic Cruise Control1 lowers your speed to maintain a set distance from the vehilce ahead in traffic scenarios, restoring it when the road clears.

 

Blind Spot Alert2 uses sensors and a visual projection on the wing mirror, alerting the driver to vehicles in the Vivaro's blind spot to prevent accidents in overtaking situations. Forward Collision Alert1 scans the road ahead to alert the driver to the potential for a collision with the vehicle in front. If necessary, Automatic Emergency Braking1 takes action to avoid an accident, applying the brakes automatically in case of a potential collision.

 

1 Optional as part of the Driver Safety Pack 2 Optional as part of the Parking Pack

 

ALL IN ONE PLACE.


Unique in the segment, head-up display projects vital info such as speed and cruise control settings right into the driver's line of vision.

GET A PROPER VIEW.


Reversing out of your driveway or into a tight parking space? Our clever 180º panoramic rear-view camera1 gives you an extra wide view of everything behind you on the 7-inch touchscreen.

 

1 Optional on Sportive models. Standard rear-view camera optional on Edition models
THE PERFECT BALANCE.


Go further on a single tank with the Vivaro's range of powerful yet frugal Euro 6d-TEMP diesel engines, offering up to 180PS, for low running costs, reduced emissions and maximum efficiency.

 

And enjoy precise gear changes for a slicker drive with the Vivaro's choice of manual and automatic transmissions. 

 

IT ALL ADDS UP.


Opel keeps you on the road for the lowest possible cost 24 hours a day, 365 days a year – increasing your business's profitability.

 

Enjoy a combination of money-saving benefits:

36-month new car warranty, no mileage limit for the first 2 years, 150,000km limit for the final year, 12-year anti-perforation warranty
European-wide network of 4500+ Opel service points and 3000+ commercial vehicle service centres
Inclusive Opel Roadside Assistance for the first year in 40 countries and replacement vehicle for the 1st year
Opel original spare parts guaranteed
Low servicing and maintenance costs
Long service intervals: up to 2 years/50,000 km

 

CHALLENGING SURFACES WELCOME.


The Vivaro's IntelliGrip system1, including special construction site tyres, provides extra levels of traction on difficult surfaces such as mud, sand or snow. An ideal option for off-road site work when specified with the Worksite Pack1 which also provides increased ground clearance and underside protection.

 

1 Optional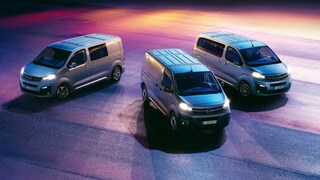 Choose your perfect Vivaro and get the job done. 

Discover all variants from Panel Van, Doublecab, to Combi. Each variant is available in two different lengths, L1 and L2 variants. Payload is up to 1400 kg with a load volume capacity of up to 6.6m3  both depending on the model specificed.