Smart, practical and comfortable - with everything built to last. Low running costs and driving enjoyment complete the picture.
Smart, practical and comfortable - with everything built to last. Low running costs and driving enjoyment complete the picture.
Economical to own and operate with in-built durability. With practicality, comfort and features that your drivers will appreciate.
With very competitive pricing and total cost of ownership, the Vivaro panel van supports business productivity and the bottom line.
EXTERIOR STYLING

FIRST IMPRESSION: FIRST CLASS.

Durability is engineered in, on the outside Vivaro shows its robust nature with a 

wide, stance

 and 

confident styling

. Show your business means business.

Vivaro is the ultimate professional with great all-round vision. The exterior features a powerful grille and distinctive headlamps with Daytime Running Lights. Sportive models add a chrome grille and super-smart LED running lights. Further optional highlights:

Exterior styling packs
Two body lengths, two roof heights
Tailgate or slam doors
Trailer hitch

INTERIOR

YOUR OFFICE ON WHEELS.

Looks good. Feels good. Works well. Vivaro is built to work harder with intelligent cab design and is loaded with clever practical features that help get the job done.

 

Smart, hard-wearing materials are used throughout for enhanced comfort and durability. With excellent interior ergonomics you sit comfortably, with everything at your fingertips. Comfort and control is optimised right across the cab.

 

The Vivaro stands for convenience and flexibility. Additionally, clever features allow you to take your office with you:

Dash-mounted gearshift for easy access
Steering wheel-mounted audio controls
6-way adjustable seat with armrest and lumbar support
Smartphone holder1
Tablet holder1
Open and covered dash storage
Easy-reach cup holders
Dual front passenger seat with storage, rotating clipboard, fold flat centre section and load through bulkhead2

 

1 = Option. 2 = Standard on Sportive Van models, Optional on Vivaro Van models.

WHEELS

WORK WHEELS.

16-inch  steel wheels with centre covers are standard on Vivaro models, with Sportive featuring full-diameter wheel covers. Alternatively, there's the option of sleek 17-inch alloy wheels  to make you look good.

COLOURS

COLOUR YOUR VIVARO.

Choose from solid and metallic colour  finishes to personalise your Vivaro.  Stylish, hard-working vans created to match the dynamics of your business and lifestyle.
ENGINES / TRANSMISSIONS

HIGH TECH POWERTRAINS.

Excellent performance and competitive fuel consumption: Vivaro's range of powerful Euro 6 turbo- and biturbo-diesel engines  come with a smooth 6-speed manual transmission  for a great drive.

CONSUMPTION / EMISSIONS

MORE POWER, LESS THIRST.

Thanks to its advanced engine technology, Vivaro offers excellent fuel economy, whatever the application.

 

You can choose from four advanced Euro 6 engines with BlueInjection Technology and, on more powerful engines there's Start/Stop technology that cut costs and emissions. The range starts with the 1.6 CDTI (95PS) up to the 1.6 CDTI BiTurbo (145PS).

 

Fuel consumption in l/100 km: combined 6.9–6.0; CO2 emission in g/km: combined 178–155.

 

In accordance with regulations R (EC) No. 715/2007 and R (EC) No. 692/2008 (applicable version).

OPERATING COSTS

LOW TOTAL COST OF OWNERSHIP.

Opel keeps you on the road for the lowest cost possible. 24/7, 365 days a year. Low Total Cost of Ownership means your Vivaro can increase your profitability.

 

Three-year / 150,000km manufacturer's warranty
Includes Opel Roadside Assistance for first 12 months
6-year anti-perforation warranty
6,000 Opel service points, 2,000 commercial vehicle service centres
Opel Original spare parts guaranteed
Low service and maintenance requirements
High residual values
'ECO mode' improves economy by modifying engine performance
MAX LOAD VOLUME


SERIOUS SPACE.

Easy access and superb payload capacity. The Vivaro Van is a perfect match for transporting large or bulky goods. It can carry up to 1200kg with 8.6cu.m max load volume. 

 

The interior can accommodate three Euro-pallets with ease. And here are the key facts:

 

Two wheelbases: 2537mm or 2937mm load lengths
Two roof heights: 1387mm or 1897mm load heights
Payloads up to 1.2 tonnes
Maximum load width of 1662mm (1268 mm between wheel arches)
Load volume from 3.2cu.m (Crew Van L1) up to 8.6cu.m  (Panel Van L2 / H2)
FlexCargo bulkhead extends load length to 4150mm (Panel Van L2)

EASY ACCESS


EXTRA WIDE AND SUPER LONG.

Vivaro Van makes it easy to stow and access loads – with

 up to 4150mm length, easy access from the side and rear

. Plus rear doors that can fold flat.

Vivaro takes a very flexible approach to load carrying. 

Large side load door aperture (1030mm wide / 1280mm high)
Large rear door aperture (H1 models: 1390mm wide / 1320mm high or H2 models: 1390mm wide /1820mm high)
Rear doors (optionally with 250° opening angle), glazed or solid
Optional tailgate (glazed or solid)

LOAD SECURITY

KEEPING CARGO SAFE AND SECURE.

Load it. Lash it. Protect it. Secure your load quickly and safely with 16 standard load-securing eyes.

Protect the interior and your cargo with a full range of floor, wall and wheelarch panels. Choose from:

 

Rubber-coated reinforced wooden load floor covering1 
Resin-coated laminate plywood load floor covering1
Half-height plastic load lining panels1 
Full-height lightweight plastic honeycomb load lining panels1
Resin-coated laminate plywood wheel arch protection1

 

1 = Optional.

LOAD-THROUGH FLAP

FLEXCARGO®  LOAD-THROUGH HATCH.

Maximum flexibility for your storage needs. Just open the bulkhead hatch1 to carry long items up to 4.15 metres under the passenger seat.

 

1 = Optional on Vivaro. Standard on Sportive.

RACK SYSTEMS

KEEPING YOUR CARGO SAFE AND SECURE.


The Sortimo Simpleco racking system1 and the Sortimo Globelyst1 shelf trays and drawers answer every storage question.

 

1 = Optional. Actual fittings vary depending on Vivaro model. Sortimo rack systems are reversible enhancements applied and supported by Sortimo International GmbH. Opel Automobile GmbH does not warranty items from Sortimo. Please note: Racking system reduce the maximum payload of the base vehicle.
REAR PARKING SENSORS / CAMERA

PARK EASILY WITH THE PARK PILOT.

The high-mounted rear-view camera  on the rear door provides an excellent view of the area behind the vehicle. If used with the Navi 50 IntelliLink , you'll see a trajectory path.

KEYLESS OPEN / START


OPEN THE DOORS WITHOUT THE KEY.

The Keyless Entry and Start1 increases security while making loading and unloading easy. Doors can be opened by pushing buttons on the locks or remotely.

 

Opens all doors
Locks all doors
Remote control of interior lighting
Can lock or unlock rear doors
Integrated physical key
An ignition button on the mid console

 

1 = Optional.

CRUISE CONTROL


CRUISE AT THE PERFECT SPEED.

The cruise control with speed limiter allows you to maintain a constant speed  while the speed limiter function allows you to set a maximum speed . 
NAVI 50 SAT NAV

FIND YOUR WAY EASILY.

Enjoy fantastic sound with dynamic navigation. Specifically designed for Vivaro's cab, the Navi 50 IntelliLink1 gives you accurate and affordable navigation. 

 

Key features include:

Satellite navigation with coverage for Western Europe 
Offers 2D and birds-eye navigation view
7-inch colour touchscreen
Bluetooth® connectivity
Steering-wheel mounted controls
USB connection
Bluetooth® audio streaming
DAB Digital radio
Voice control via Siri with AppleTM1 smartphones

 

1 = Optional.

2 = Apple is a trademark of Apple Inc. registered in the U.S. and other countries.

RADIO CD 18


CD18 BLUETOOTH® USB RADIO.

Open new horizons with the CD181, featuring Bluetooth® and USB connectivity. 

 

CD player in double-DIN format
Bluetooth® mobile phone portal 
Bluetooth® audio streaming 
DAB digital / FM / AM radio
6 pre-sets/favourites, Auto Store, TMC
USB socket for MP3/WMA playback
3.5-mm aux-in 
Audio output 2 x 20 W, 2 speakers 

 

1 = Standard on Sportive, optional on Vivaro.

SMARTPHONE HOLDER

KEEP YOUR SMARTPHONE IN SIGHT.

Mount your smartphone – up to a 4.7-inch screen – and keep it within sight and easy reach . Use the upper USB socket on the dashboard to keep it fully charged.
DRIVER'S CABIN

THE COMFORT CABIN.

All at hand. Space and comfort at the highest level thanks to the leather steering wheel1 and remote controls.

 

1 = Sportive models.

MOBILE OFFICE

WELCOME TO YOUR MOBILE OFFICE.

Vivaro is well equipped to be an office on wheels. The centre front seat can be quickly folded flat into a small desk to hold a laptop1.

 

When folded down, the centre front seat gives you access to hidden, secure storage. It also features an additional drinks holder. A built-in, removable clipboard is also part of the office bench seat1. 

 

The intelligent cab design also extends to a range of other great features:

Tablet holder2
Smartphone holder2
USB charging socket on the dashboard

 

1 = Standard on Sportive models, option on Vivaro. 

2 = Option.

AIR CONDITIONING

ELECTRONIC CLIMATE CONTROL.

Optional Electronic Climate Control  allows a constant temperature to be maintained in the cabin compartment, improving comfort and reducing condensation.

DOUBLECAB

COMFORT FOR THE WHOLE CREW.

Vivaro Doublecab perfectly combines a comfortable 6-seater cabin with a separate, practical load compartment. From construction work to landscaping, it always performs perfectly.

 

Six seat layout
Full bulkhead between passenger and load compartments
Distinctive and smart exterior styling
Excellent rear seat access
Generous glass area
Maximum load volume: L1 - 3.2cu.m / L2 - 4.0cu.m
Maximum payload up to 965kg
SAFETY


SAFETY FIRST.

Vivaro protects your people, your property and your company with an advanced range of protection features  and sophisticated chassis control systems.

PASSIVE SAFETY

MUCH MORE THAN JUST BUCKLED UP.

Vivaro protects you and your passengers with an extensive range of standard passive safety equipment  from airbags to seatbelt pretensioners.

EXTRA VISIBILITY


SEE MORE OF WHAT YOU NEED.


Driving a van can be tricky. We can make it easier. The new Vivaro come with specially designed blind angle mirrors for improved visibility at junctions and changing lanes.

LED DAYTIME LIGHTS


LED DAYTIME RUNNING LIGHTS.

Stylish Opel 'wing' signature LED running lights1 look great and make your van more visible to other drivers.

 

1 = Standard on Sportive.

ALARM SYSTEM


LOCKED TIGHT AND ALARMED.

Vivaro can be equipped with an optional factory installed alarm system. Selective door locking  allows the cab area to be unlocked independently of the load compartment.
ACCESSORIES.
Tailor Made for You.
With original Opel accessories express yourself and make the most out of your vehicle. Designed and tested for your Opel.

Actual products may differ from those shown.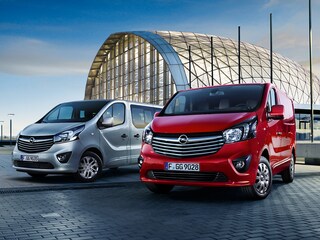 Any Way That You Want It
Panel Van, Crew Van or Platform Cab? Payloads up to 1,210kg, capacity up to 8.6cu.m. Standard or long wheelbase, high or low roof? There's an Opel Vivaro for you and your business.