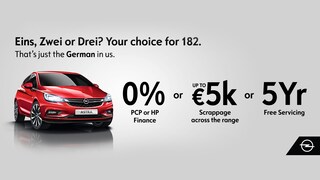 Your choice for 182, gives you even more choice.
When you choose an Opel this 182, as our way of saying thank you, we are giving you even more choice. You get to choose the offer that's the perfect fit for you, and your new Opel.
So what will it be? Eins, zwei, or drei?
0% APR Financing, €5,000 Scrappage, or 5 Years Free Servicing. A reliable and exciting car with an equally impressive 182 offer?

You could say, that's the German in us.
To get started, choose your offer: