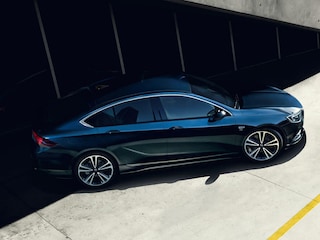 Dynamic design, superior connectivity and intelligent driver assist systems - Insignia is your powerful invitation to enjoy the open road.
Dynamic design, superior connectivity and intelligent driver assist systems - Insignia is your powerful invitation to enjoy the open road.
The Insignia features premium interior design and intelligent driver assistance systems - your perfect business partner for any occasion.
The new business class - strong performance, a focus on safety and extended service intervals makes Insignia the perfect match for your business fleet.
MAKE AN INSTANT IMPRESSION.


Benchmark fastback design, coupé-style contours, crisp lean lines - a combination of sporty looks and outstanding aerodynamics.

PERFECT IN EVERY WAY.

From the instruments that tilt subtly toward the driver over the optional ergonomic active front seats to the

quality materials

- everything is made to measure.

First-class craftsmanship.
Wellness luxuries, incl. ergonomic seating, certified by the Campaign for Healthier Backs (AGR), an independent centre of excellence for ergonomics1.

1 = Ergonomic active front seats are standard on SRi and Elite. Optional on all other models

 

BEAUTY IN ITS MOST PRACTICAL FORM.


Accommodate people and loads of all sizes. The generous dimensions in the rear and the load area of 490 litres make every drive a pleasure – for driver and passengers alike.

 

In addition to ample legroom, Grand Sport's offers 490 litres of load space, which grows to a capacious 1450 litres with the rear seats folded. 

CREATE A CHARACTER.

Give your Insignia Grand Sport its own unique sense of character with a head-turning range of alloy wheels. Available in 17-20-inches.
ADVANCED INTELLILUX LED® MATRIX HEADLIGHTS.

IntelliLux LED® Matrix headlights1 with glare-free high beam, automatically dip the beam around other vehicles but keep the rest of the road brightly lit up to 400 metres ahead.

 

No risk of dazzling other drivers.
Night driving is safer and more relaxed.
Cornering Light avoids 'black holes' on tight bends. Active from speeds between 40km/h to 70km/h1.

 

1 = IntelliLux LED® Matrix headlights are optional on SRi and SE, standard on Elite. When the system is activated, high beam is turned on at speeds above 50km/h and automatically turned off at speeds below 35km/h.

KEEPING A SAFE DISTANCE.


Automatic Cruise Crontrol1  helps prevent rear-end collisions – and helps you relax – by braking and accelerating to maintain a set distance to the vehicle in front.

Automatic driver assistant systems are standard on the new Insignia1. They scan the road and shield the Insignia with a safety zone of maximum relaxation and minimum risk.

 

1 = Optional at extra cost on all models except SC and 1.6 diesel models as part of driving assistance pack 2. Please note, Opel driver assistance systems are intended to support the driver within the limitations of the system. The driver remains responsible for driving.

 

NEXT LEVEL DRIVER ASSISTANTS.

The Head-Up Display1 shows you key data on the windscreen so you can keep your eyes on the road. Info includes your speed, sat-nav directions or hazard warnings.

 

1Optional at extra cost on all models except SC in conjunction with driving assisstance pack 2

REAR CROSS TRAFFIC ALERT.

Rear Cross Traffic Alert1 warns you about vehicles when backing out of a parking spot or your driveway. What used to be an invisible hazard is now easy to manage.

 

1Optional on all models as part of driving assistance pack 3 and 4

ADVANCED SAFETY SYSTEMS.

Opel's latest safety technologies are standard across the range:

 

Active Emergency Braking with Pedestrian detection.
Side Blind Zone Alert.
Lane Keep Assist.

 

Our advanced safety systems combine both camera and radar and are designed to boost driver vigilance and to help prevent near misses, collisions, speeding tickets and more.

 

Continous safety support helps you relax.
Leaves you in control of your Insignia.

THE MAGIC TOUCH.

Get in your car and drive. Insignia's "Keyless Start" is standard in Insignia and allows you to get going with the push of a button.
MULTIMEDIA NAVI PRO. INFOTAINMENT WITH CONNECTED NAVIGATION.


With the new Multimedia Navi Pro, enjoy Connected Navigation services1 like predictive navigation, live traffic alerts, timely parking information and online map updates2.

 

Seamless and intuitive driving at a glance:

8" HD colour touchscreen
AM/FM radio, DAB/DAB+3
3D European navigation with Connected Navigation1 services such as predictive navigation and live traffic2
On-board voice control for audio, phone and navigation functions
Compatible with Apple CarPlay™4 and Android Auto™4
Bluetooth® audio streaming and hands-free calling5,6
Store up to 5 user profiles for individual favourites
Information from the infotainment system is displayed in the instrument cluster

For more on Infotainment systems, go to www.opel.ie/experience/infotainment.html

 

Standard on Elite, optional at extra cost on all other models

1Requires acceptance of Telenav end user licence agreement and consent to the use of personal data as set out in the Telenav privacy policy. License expires end 2031. 2Data is not included and must be provided through connection to the mobile internet via your smartphone or WiFi hotspot. You may incur mobile network data charges. 3Standard on Elite models. Optional on SC, SE and SRi 4Apple CarPlay™ is a trademark of Apple Inc., registered in the U.S. and other countries. Android Auto™ is a trademark of Google Inc. 5Compatibility and certain functionalities may differ depending on the type of device and version of operating system. 6Bluetooth® is a registered trademark of Bluetooth SIG Inc. 

MULTIMEDIA NAVI. INFOTAINMENT WITH NAVIGATION.

With the new Multimedia Navi you can enjoy a streamlined and easy-to-use Navigation for traveling efficiently and with a high level of comfort and precise routing.

Multimedia Navi1 features: • 7" HD colour touchscreen • 3D European navigation with TMC/payTMC traffic service1 • AM/FM radio, DAB/DAB+ • Compatible with Apple CarPlay™2 and Android Auto™2 • Bluetooth® audio streaming and hands-free calling3,4 For more on Infotainment systems, go to www.opel.ie/experience-opel/infotainment.html

Standard on SE models

1Standard on SE and SRi models. 2Apple CarPlay™ is a trademark of Apple Inc., registered in the U.S. and other countries. Android Auto™ is a trademark of Google Inc. 3Compatibility and certain functionalities may differ depending on the type of device and version of operating system. 4Bluetooth® is a registered trademark of Bluetooth SIG Inc. 

MULTIMEDIA. CONNECTIVITY ON CALL.

The smart Multimedia system is standard on Insignia SC models Apple CarPlayTM1 or Android AutoTM1 allow you to seamlessly project key apps and features from your smartphone1 onto the large 7" colour display.

 

The sophisticated Multimedia system at a glance:

7" colour touchscreen with new enhanced usability
AM/FM radio, DAB/DAB+
Compatible with Apple CarPlay™1 and Android Auto™1.
Bluetooth® for hands-free calling, phone book access and audio streaming 2
2 USB interfaces and an aux-in to connect or charge mobile devices
7 speaker, 4x20W output.

Standard on SC and SRi models

1Apple CarPlayTM is a trademark of Apple Inc., registered in the U.S and other countries. Android AutoTM is a trademark of Google Inc. 2Compatibility and certain functionalities may differ depending on the type of device and version of operating system.

CHARGE ON THE GO.

Wrong cable? Right car! With wirelss charging1 you can top up your smartphone battery tottalyy fuss-free.

 

1Standard on Elite, optional on all other models. May require an accessory for the smartphone. Please check with your Opel dealer for full details
GERMAN ENGINEERING DRIVING YOU FORWARD.


The choice is yours - whether you go for the sporty, manual 6-speed or for the sophisticated 8-speed automatic transmission1, Insignia has all qualities to take you forward.

 

1Available for 2.0 diesel 170PS (125kW).

CUSTOM DRIVING PERFORMANCE.


FlexRide®1 lets you to experience three cars in one. Switch from Standard setting into Tour or Sport to turn your Insignia into a smooth cruiser or a sporty machine.

 

At the push of a button, FlexRide® adapts the sensitivity of various systems to match road conditions and your chosen driving style, including the steering wheel, accelerator, automatic transmission and traction control:

 

FlexRide® adjusts the dampers 500 times per second.
Sensors monitor the road surface and car motion.
Sport mode enhances road holding for dynamic driving.
Tour mode softens the ride for relaxation.
Standard mode constantly adjusts to your driving style.

 

1Optional on selected Grand Sport engines

REAL LIFE FUEL CONSUMPTION.

Insignia combines fuel efficiency with driving dynamics and agility. Tests show that it consumes up to 10% less fuel depending on the engine/transmission1.

 

 

Insignia's outstanding dynamics also benefit from a weight reduction of up to 200kg compared to its predecessor2.

 

As of now, you can find fuel consumption data that is based on the future WLTP3 applicable driving cycle. From autumn 2017, the WLTP driving cycle will be made legally binding and it relates closer to modern driving behaviour. By doing this Opel are already making it easier for customers to estimate the daily consumption of their vehicles.

 

For further information on the WLTP drive cycle, all emission and fuel consumption figures please click here.

 

1 = 1.6CDTI / WLTP drive cycle

2 = Up to 175kg on Grand Sport, up to 200kg on Insignia Sports Tourer

3 = Worldwide Harmonised Light-Duty Vehicles Test Procedure
ERGONOMIC ACTIVE FRONT SEATS. THE BEST FOR YOUR BACK.


Treat your back with ergonomic active front seats

1

- certified by the Campaign for Healthier Backs (AGR), an independent centre of excellence for ergonomics: Ergonomic active front seats

1

help avoid back pain and boost your attention and wellbeing.

Ergonomically certified in Germany.
Extendable thigh support to adjust your seat to precisely the right length for your legs.
Ventilation and heating keeps you cool or warms your back.

Upgrade the first-class features:

Massage on demand.
18-way adjustment and memory settings.

 

1 Standard on SRi and Elite models, optional on SE models. The certificate is a seal of quality awarded by an independent testing committee made up of experts from various medical disciplines.

LOUNGE LIGHT.

Extra Ambient Lighting1 in the centre console beautifully illuminates the interior and give it a lounge-like feel.

 

1Standard on SRi, SE and Elite models

ONE-TOUCH FOLD.


Easily accommodate people and loads of all sizes. With the 40:60 foldable rear seats , the Insignia makes it easy.
ACCESSORIES.
Tailor Made for You.
Express yourself with original Opel accessories and make the most out of your vehicle. Designed and tested for your Opel.
Pictures may differ from product on sale.